Exquisite brochettes with most delicious seafood flavors coming from Argentina to your table.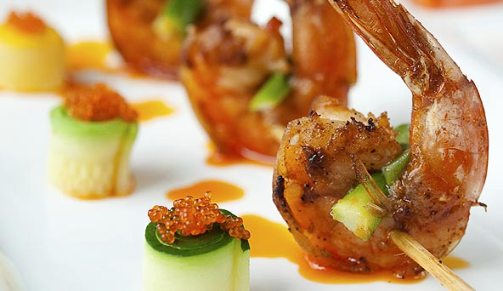 What do you need?
2 cod fillets, 300 grams each
250 grams raw prawns (gray)
1 red bell pepper
1 onion
½ teaspoon thyme
Olive oil
Salt and pepper, to taste.
Preparation:
Wash the peppers, remove the seeds and cut into medium cubes.
Peel the onions and cut into medium cubes also.
Heat some olive oil in a pan. Add peppers and onion and saute a little. Remove from heat.
Slice the fish fillets in a little larger than the diced vegetables.
Clean the prawns by removing the head, shell, legs and tail. Also removes the digestive system (a dark vein in the back).
Inserts sticks to skewer the ingredients in the following order: shrimp, peppers, onions, cod, peppers, onions, shrimp.
In a small bowl combine the thyme with a little olive oil and pepper. Stir well and mix used for varnishing the brochettes. Season to taste.
Roasted on a grill, turning, until fish is golden brown.