As a general rule, pasta is usually prohibited in a diet. However, in moderation and in proportion it can accompany a dish and make it delicious low calorie. See, below, is a cooler recipes and with more flavor and color.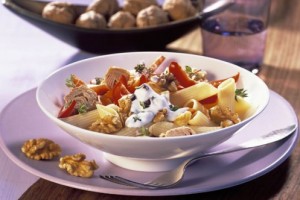 Light sour pasta salad is a fresh and delicious dish, suitable for any time of the year. Here we offer a very easy to prepare recipe and you will get to position yourself as a full kitchenettes. You will only need the pasta, vegetables and fruits.
Could it be healthier? Learn all the ingredients you need and discover what the best way to prepare it is. A simple, quick and tasty recipe! Best thing about this recipe is that you will not have to renounce the flavor to eat a satiating dish and with very few calories.
Ingredients:
50g pasta (preferably propellers, Macaroni or snails)
1 tomato
1 orange
1 peach
1 piece of onion
Lemon juice
Chopped fresh basil
1 tablespoon of soy sauce
Salt
Pepper.
Preparation:
Cook pasta on slow heat.
While waiting until the pasta is ready, cut the Peach and orange into small dice and reserve.
When the pasta is ready, pass it a few seconds below cold water faucet. This will stop the cooking immediately and make that the chosen pasta is a temperature ready for your consumption.
The onion in the form of pen and tomato in cubes.
Mix in a salad bowl and add the chopped fresh basil.
Seasoned to your taste with lemon juice, soy sauce, salt and pepper.
It is advisable not seasoning too because the fruit will leave its own juice in the dish and will give you more flavor. After preparation, you will get a delicious dish and low in calories ready to join any other dish you prepare.