An excellent snack for hot days is this delicious and super light spring rolls.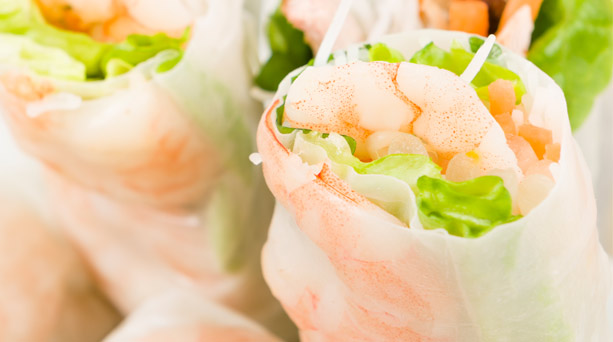 What do you need? (For 4 servings)
12 shrimps, cooked
90 grams rice noodles
8 rice paper sheets
1 mango, peeled and sliced
A bunch of mint leaves
A bunch of cilantro
A bunch of basil leaves
½ cup shredded lettuce.
Preparation:
Prepare noodles according to package directions. Leave to cool.
Peel the shrimp and cut in half lengthwise.
Dip each piece of rice paper (one at a time) in a bowl of hot water until smooth. Put the leaf on a plate.
Place 3 half shrimps in one half of the paper, leaving approximately 3 cm on each side.
Put one or two slices of mango over the shrimp. Add some noodles, mint, cilantro and basil, complete with lettuce.
Wrap the ingredients with rice paper, making a fold at the bottom toward the center, then folding the edges to the center as well. Wrap well, forming a tight roll.
Serve.