Exquisite salmon covered with a crunchy crust and a delicious tempura style mustard sauce and succulent honey…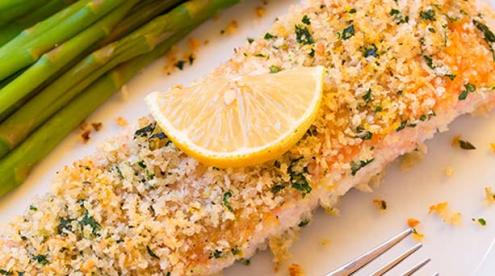 What do you need? (For 4 servings):
4 salmon fillets
1½ tablespoons Dijon mustard
1½ tablespoons honey
1 garlic clove, crushed
¾ cup panko
2 tablespoons fresh parsley, chopped
1 teaspoon lemon zest
2 tablespoons olive oil
Salt and pepper, to taste.
Preparation:
Preheat oven to 200°C. Sprinkle a baking sheet with cooking spray.
In a small bowl mix the mustard, honey and garlic.
In an extended dish combines the panko, parsley and lemon zest. Drizzle olive oil over the mixture and stir well.
Spread honey mustard mixture over the salmon fillets. Season with salt and pepper. It covers the part with sauce with panko mixture. Repeated turns and the other side of the salmon.
Bake for 13-15 minutes, until salmon is cooked.
Serve hot.