Rita Blue is a Barcelona restaurant you'll find quiet square of Saint Augustine, in the Raval district of Barcelona. Its location is perfect; you can stroll from Catalunya Plaza in the center of the city. This restaurant, decorated with original and youthful atmosphere, dinners inspired creative international cuisine, which highlights Mediterranean flavors and Mexicans.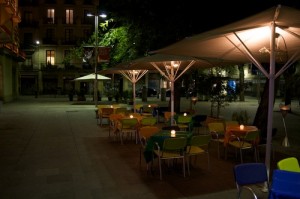 This restaurant is open for dinner only, beginning at 08.00 pm and is also a cocktail bar where you can have tasty cocktails until two in the morning (Friday and Saturday until three). The restaurant Rita Blue belongs to the chain Rita. In Barcelona you will also find her brother Rita Rouge, where, apart from being a restaurant, exhibitions of art and occasional concert.
In summer, the restaurant Rita Blue has a nice terrace and in winter you can dine at one of its two floors.It is a perfect restaurant for a group dinner, with friends. The atmosphere is good, the kitchen more than acceptable and can have a drink without even having to leave the premises.
The charter of Rita Blue opens with a selection of tapas as palatable as earthen Mexican nachos, seasoned with Mediterranean flavors, a blend of cheeses, cream, Greek yogurt and peppers, Mediterranean hummus served with pita bread, patatas bravas with all-i-oli and tomato chutney, and other gastronomic surprises. Thus, it is good choice to start a dinner of tapas and then proceed to the main course.
The first dishes in Rita Blue include proposals such as the Shitake rice, the suggestive Wok & Roll, with sauteed vegetables, wheat pancakes and guacamole (delicious!) or risotto "Big Island" with chicken, prawns and vegetables. For the latter, in the kitchen preparing their best meats and fish in the form of foie gras and steak fajitas, lamb kebabs in Moroccan style, or monkfish "Taj Mahal" with curry and couscous.
The restaurant is open Monday to Sunday (dinner only) and the average price of the charter is around 25 euros per head.
Directions to Rita Blue Restaurant
If you are only visiting Barcelona, a good reference point to find Rita Blue is the Boqueria market, located a few meters from the restaurant and Las Ramblas, there is no loss. Ideally, take any subway or train to Catalunya Plaza and from there to the restaurant Rita Blue a short stroll down the famous street of La Rambla.
Address: Placa de Sant Agusti, 3 (Barcelona).