What better way to start the holiday season having breakfast with this red velvet pancakes?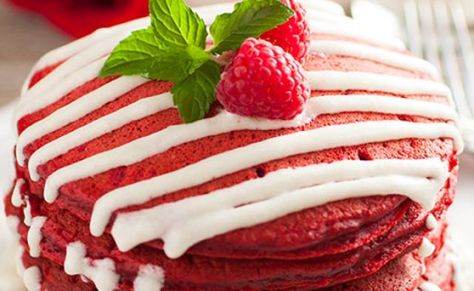 What do you need?
To make 16 delicious pancakes:
2 cups flour
3 tablespoons cocoa powder
2 teaspoons baking powder
½ teaspoon baking soda
½ teaspoon salt
2 cups milk
2 tablespoons white vinegar
½ cup sugar
2 eggs
1½ tablespoons red food coloring
2 teaspoons vanilla extract
1/3 cup salted butter, melted.
For the cream cheese frosting
180gm cream cheese, softened
6 tablespoons butter, softened
2 cups powdered sugar
½ cup milk
½ teaspoon vanilla extract.
Preparation
Preheat a nonstick skillet over medium heat.
In a bowl mix the flour, cocoa, baking powder, baking soda and salt. Separates.
Combine milk and vinegar and let it sit for 2 minutes. Pour into a bowl and add the sugar, eggs, coloring, vanilla and melted butter. Beat until everything is well combined.
Slowly incorporate the flour mixture to the bowl with sugar and butter and stir well.
Pour ¼ cup of batter into the pan. Heat until bubbles appears on top and flips. Heat on the other side until it is well cooked. Repeat with all the mixture.
For the frosting, beat cream cheese first and butter on medium speed for 2 minutes. Add remaining ingredients and beat for 1 minute.
Serve hot pancakes with cream cheese frosting.