Ingredients Required: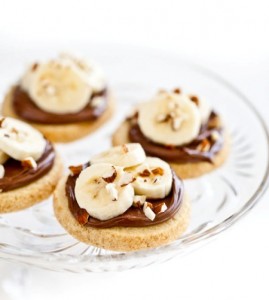 220g flour;
180g butter;
75g sugar;
1 egg;
1 packet of yeast;
A pinch of salt;
Nutella.
Preparation:
In a large bowl, combine the flour, sugar, yeast, salt.
Make a well and add the butter, cut into slices and whole egg.
Knead the dough until it is well blended. Leave it to cool for one hour.
Flour the work surface and roll out the dough. Cut shapes with a punch in the shaped of flower. If the dough sticks, add flour.
Share your flowers in two. Over half of them, cut a hole there. Then stick them by 2, the flower perforated on the top.
Fill the hole with a touch of Nutella, if possible with a pastry bag fitted with a fine tip.By hand: do not hesitate to wet your fingers in the water to drag.
Put in the oven for 15 minutes at 180° C. Remove them from the oven when its begin to brown. You can sprinkle them with icing sugar.