It is about the Super Bowl and you have to be prepared, I will give you an idea of pizza made ​​with pita bread, so we'll be eating in a healthier way.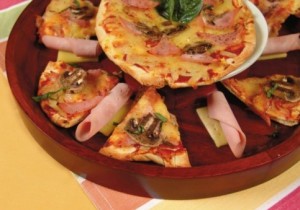 Ingredients
4 pita bread (calculated from 1/2 to 1 per person), this because men eat more than women and children, also depending if you going to place type of appetizers or as food. I will make the recipe for 4 pita breads.
Canola oil
1 cup simple tomato sauce for pasta

1 and 1/2 cup shredded mozzarella or other melted queseo that is to your liking.
In the following ingredients should buy a bit of everything and prepare them according to your taste if they are for appetizers or according to the taste of the guests if it is as a dish, can add or remove ingredients from the list below.
1 diced onion,
1 can of corn grain,
20 fungi (5 units per pizza),
1 diced red pepper,
20 black olives, pitted and cut into wheels
Oregano or basil to taste,
8 slices of ham (2 for each pita bread).
Procedure
Preheat oven to 180° C
Place the loaves on a tray with greased paper or aluminum.
Spread with a brush canola oil by around the pan.
Follows the same order of pizzas.
Tomato Sauce, ingredients of the preference and cheese.
Some oregano and basil.
Bake until the base is crispy, about 20 minutes, you should be aware.