In the summer, you want to enjoy simple things and crisp. Italian bruschetta is the ideal compromise, delicious and easy to prepare. But how to make Italian bruschetta?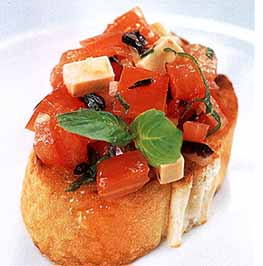 For tastier bruschetta, peel, seed and slice the tomatoes into thin slices. Cut the mozzarella as you add them into thin slices.
The bread will be crisper if you put them in the oven to broil, before filling your tomatoes and mozzarella mixture.
For all is warm, you can finally put the grill for 3 minutes and serve after adding a few drops on each slice with olive oil and pieces of basil.