Pubs in Great Britain is serious, so serious as to merit articles and posts in major British newspapers, which now greeted with satisfaction the change of ownership for the Whitelock's First City Luncheon Bar in Leeds, in the hope that the new owners know how to bring it back to its former glory.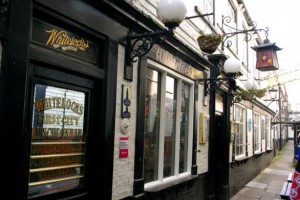 But beware, if the customers in the past may have complained about the quality and price of beer, no one has ever complained about the pub, its furnishings, Victorian atmosphere that you breathe, so well preserved, so that the BBC will speaks as the hidden gem in Leeds.
Furniture made with tiles and brass, with tables and chairs the color of old oak trees. Born in 1716 as the Turk's Head, was renamed in 1867 when it was purchased by Whitelock, who were its owners until 1994 has been repeatedly cited by major British artists, including John Betjeman, who called it "The real heart of Leeds".
Leeds, about 300 kilometers north of London, is a popular holiday destination by the British. The Town Hall, Millennium Square, the Victorian Quarter, the Stadium, the traditional market of Kirkgate Market, Park Square, Roundhay Park and Leeds-Liverpool canal, are just some of the things you can try when you visit the city.