No ideas for food? These are grilled salmon skewers, super simple and quick to prepare. Try it!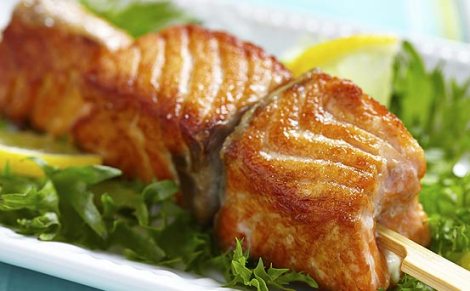 Ingredients (4 servings)
2 tablespoons fresh oregano, chopped
2 teaspoons sesame
1 teaspoon ground cumin
¼ teaspoon pepperoncino
500g skinless salmon fillet, in small pieces
2 lemons, ​​thinly sliced
Olive oil spray
1 teaspoon grain of salt
8 wooden skewer sticks, soaked in water for 1 hour.
Preparation
Heat grill to medium heat and spritz with spray.
Mixture oregano, sesame, cumin and pepperoncino in a small bowl to combine. Separate.
Arrange salmon pieces on wooden skewers, alternating with slices of lemon bent. Sprinkle fish lightly with cooking spray and season with rock salt and spice mixture.
Grill fish, turning occasionally, until that is fully opaque, total 8 to 10 minutes.