Quick and easy to prepare, these soft raspberry cookies with a hint of almond are perfect for evening with friends.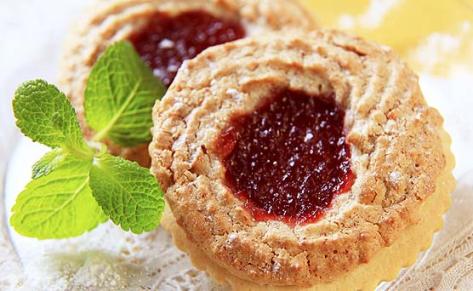 Ingredients (36 biscuits)
1 cup butter, softened
2/3 cup granulated sugar
½ teaspoon almond extract
2 cups flour
½ cup raspberry jam, boneless
Sugar, for dusting.
Preparation
In a medium bowl beat butter on medium speed for 30 seconds. Add granulated sugar and ½ teaspoon almond extract. Whisk until well combined. Incorporates as much flour as we can with the electric mixer and later uses a wooden spoon to incorporate the remaining flour, if necessary. Cover and chill for 1 hour or until the dough is manageable.
Preheat oven to 176º C. Form balls of 2.5 cm with the dough and arrange them on a baking sheet without grease with 5 cm apart.
Using the thumb press the center of each ball. Pour ½ teaspoon jam where you pressed and then sprinkle with sugar. Bake for 10 minutes or until edges are lightly browned.
Allow to cool for 1 minute on baking sheets and transfer to racks to fully cooled.