Ingredients of Garlic Shrimp Recipe: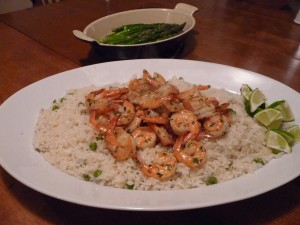 1 kg shrimp
6 garlic cloves
4 lemons Juice
100 ml white wine (optional)
Salt and pepper to taste
2 tablespoons butter.
Preparation of Garlic Shrimp:
Peel and clean the shrimp, then grind the lemon juice and garlic.
Place the shrimp in a pan with melted butter and season with salt and pepper, cooking 30 seconds on each side, then add the lemon with garlic and red wine, cook until shrimp are cooked but soft.
Remove shrimp from pan and place on a tray to serve, cooking broth for 5 minutes until reduced and then pour over the shrimp, it is ideal to accompany this recipe with white rice or rice with fine herbs.