Exquisite entrance easy to prepare that you loves all of your guests. Be sure to try!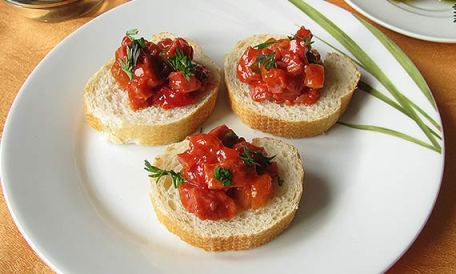 Ingredients (64 servings)
Oil Spray
8 garlic cloves, peeled
1 tablespoon olive oil
1 teaspoon lemon juice
3/4 teaspoon salt
1/4 teaspoon pepper
1 1/2 tablespoons fresh parsley, chopped
1 kg beef fillet
64 baguette bread slices, thin.
Preparation
Covers a baking sheet with cooking spray. Arrange the tray on the middle rack in the oven and preheat to 218°C.
Combine the garlic, oil, lemon juice, salt, pepper and parsley in a small bowl, crush with a wooden spoon to make a thin paste. Separate 1/3 of the mixture for use in meat.
Wash the meat and secale with paper towels. Spread 1/3 of the garlic into the meat mixture. Arrange the meat on the preheated baking sheet and bake for 22 minutes (medium) or 24 minutes (three quarters).
Spread this mixture of garlic on the bread; accommodated in a single layer on another baking sheet. Bake until lightly toasted, about 5 to 7 minutes or so.
Cut the meat into 32 portions very thin, cut each portion in half. Arrange each piece of meat on the garlic bread and serve.