Pamper your children in the holiday season with these easy, quick and delicious mini pizzas. Personalize with your favorite ingredients and enjoy a delicious family dinner.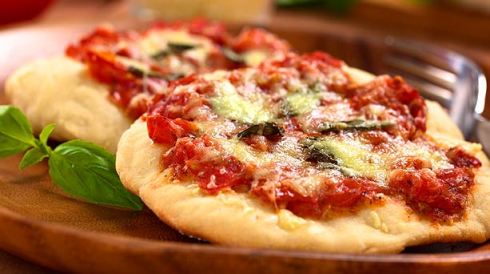 Ingredients (12 servings)
6 flour tortillas
1 can pizza sauce or tomato sauce
¾ cup shredded mozzarella cheese
¼ cup Parmesan cheese
48 mini pepperoni (regular size or cut into 4 parts)
½ teaspoon oregano
½ teaspoon basil
½ teaspoon garlic powder
Pinch of sweetener
Pinch of black pepper.
Optional
The ingredients that you like on a pizza
Preparation
Preheat oven to 218°C. Grease a mold for 12 cupcakes with cooking spray.
Put the tortillas on a flat surface. Use a can, cup or cookie cutter to cut 3 to 4 medium circles on each tortilla.
Arrange tortilla circles inside each cupcake mold cavity. Do not worry because it completely covers the sides of the mold, must only fit well.
Pour pizza sauce, Parmesan cheese and spices in a medium bowl. Mix until everything is combined.
Place 1 or 2 tablespoons of sauce on each tortilla. Cover the sauce with mozzarella cheese. Accommodates four on each pepperoni pizza.
Bake for 12-15 minutes or until the cheese is melted.
Allow to cool slightly before removing from the mold, help yourself with a fork or knife.
Serve hot and enjoy.