If through the food can reach the sky, from the restaurant Evo is easier if anything. And not only for its cuisine, but because it is located at the top of the Hotel Hesperia Tower in Barcelona, specifically on the 29th floor. Now, the restaurant has launched a new offer for those looking to quickly enjoy the bar and some of their dishes.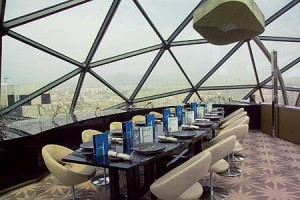 If someone speaks of a circular restaurant located on top of a 26-story building with domed roof glazed, possibly not imagine that you are talking about the set of a movie. However, it is real and not so far: it is the Evo restaurant, located on top of Hotel Hesperia Tower in Barcelona, supervised by the restaurant Can Fabes, created by Chef Santi Santamaria, winner of three Michelin stars.
Adapting to the needs of its customers and to optimize the use of the bar, located in the center of the room, the restaurant has now launched a new proposal: Evo Tast. It is a way to enjoy its cuisine through tapas and appetizers in the bar and without the protocol of the table: order is served just once and the guest can enjoy the moment without interruption of the waiter.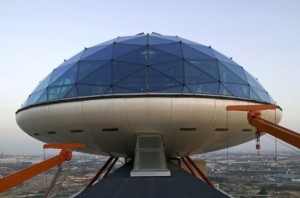 Between the tapas and snacks of the charter of the Evo Tast you can find a variety of flavors and ingredients. From frog legs with Greek yogurt until Terrine of veal and foie gras with pistachios, from the pedestals savory and sweet or the attractive offer of desserts, indicated for the sweet tooth.
Our experience in the Evo Tast started with a glass of pink champagne and a selection of tasting mini-snacks: cod fritters, squares of beet with gears, triangles stuffed with duck meat and vegetables or two chips with gelatin of beer, which is genuine surprise to the palate. We continue with a marinated fish on transparent gelatine of vegetables and Terrine of veal, pistachios and foie, one of the undeniable stars of the charter.
After the surprise is the ravioli (one of the best things we've had in a long time), the fish of the day came from the Blanes fish market. And it is that, although all the lids can get in the sack of food by design, all are made with ingredients and seasonal market. All are the responsibility of the chef, Ismael Joy, which places special emphasis on developing personal and careful presentation of all the dishes.
Finally, Evo Tast finished with a selection of desserts (chocolate nuts, chocolate and white chocolate with black berries) always serve customers, to finish with a better mouth taste if possible. And all this, much closer to the sky (literally).