If you're considering a charming place with a view, and with a touch of romanticism, we recommends Attic, a delight for the senses.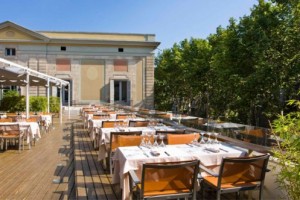 In the heart of the Ramblas of Barcelona stands the Attic restaurant. Situated on the first floor which was years ago Sepu department stores, is one of the most attractive places of the mythical Ramblas of Barcelona.
Designed by architect Dani Freixes, Attic is surely a treat for the senses. Cutting-edge design, cuisine, affordable prices and a terrace with views … Stunning!
Any time and any circumstance is good to get lost in Attic. Located in a strategic location, this restaurant chain AN Grup, becomes idyllic setting for a romantic evening, hanging out with friends or even for a family reunion.
We had the luck to be able to enjoy a dinner in the splendid terrace Attic is in the top floor. As if to observe the rain through a window, Attic turns you into a spectator of life that comes from above the Ramblas. The outside noise is completely neutralized by the music that sounds very tentatively and politely lets you hold a conversation without the need to convert to listeners to the rest of customers.
The Attic Mediterranean cuisine is full of flavors and aromas. Its extensive menu is adapted to the tastes of the most diverse customers. From delicious starters such as wild fruits salad and goat cheese or asparagus with romesco sauce and melted cheese. Also there is a variety of carpaccio and rice, pasta, delicious meats like duck, fish, and of course, a large selection of national and international wines. As a climax, a high voltage desserts like Belgian chocolate with citrus fruits; Irresistible! The truth is, thankfully there to choose from and if your partner is a bit special, you saved! Because Attic makes it easy.
Furthermore, this restaurant violates the premise that the design and quality are available to a few. Attic respects the culinary tradition with a creative touch and at a good price that along with his staff was polite and helpful.