If you are in London and you're tired of fish & chips, or you can not get sushi-fusion, if you are at that time that sooner or later, it happens, the gastronomic nostalgia for the beautiful country, you can opt for a true Neapolitan pizza, which until recently it was just a mirage in these parts, but now something has changed.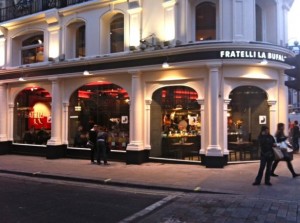 Fratelli La Bufala (already present in Miami, New York and various European cities) has opened at the end of March 2012 in the heart of the city, the Trocadero in Piccadilly Circus, full-time and remains open daily from 8 am to midnight; even here there are many proposals for pizza, but you can go just for the appetizer and drinks will be served with the typical taste of the restaurant.
On Tuesday night, instead drunk to the sound of live music, and in anticipation we are the take away service, the events show-cooking and wine tasting with the best wines from Campania.