Exploring a city is always wanting to find a terrace or roof garden from which to admire the buildings and squares from continuing to discover small urban features while you rest your feet and savor a good cup of coffee. In the case of Old Montreal this possibility is offered to discerning travelers with a series of choices…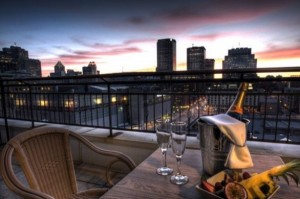 We start from the Jardin Nelson, a restaurant with a green space with fountain and huge umbrellas, that allows you to watch the artists at work in the Place Jacques Cartier.
From 11 to 23 guests have access to Terrasse Nelligan one of the best kept secrets of Old Montreal, eat a delicious barbecue while watching the St. Lawrence River, the old port and the Notre Dame Basilica. Auberge Bonaparte, on the sixth floor, offers guests a rooftop terrace with a very broad view of the old town, to enjoy a drink while the lights of the day give way to darkness.
Here we are then to Hostellerie Pierre du Calvet, another ancient building with a conservatory and, for the summer, a cozy terrace sheltered by ancient walls enlivened by lush vines. The suites on the top floor of the Hotel Gault reserve guests a green space is not big but suitable to relax and have a bit of sunshine after a morning wandering around the city.
The Terrasse Place d'Armes belonging to the hotel that bears the same name and is open from 11 am to 3 am, to enhance brunch, cocktails, dinner and after dinner with an excellent view softened by several types of cocktails. We end the parade with a haven of tranquility, the B & B Auberge Bonsecours : outdoor tables and hammocks in the courtyard near the river.