Find a restaurant in Ljubljana, bright and pleasant capital of Slovenia, is not really difficult: in the center and along the river there are so many, of all kinds.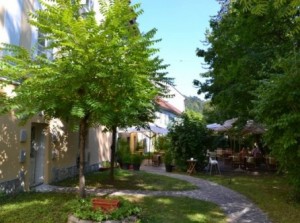 But if you want a particular place, outside from the zone but not in the periphery, near the triple bridge but without ever losing an eye on streets and buildings, urban but with garden and shade, here is the address for you: Krizevniska 12.
Here, you will find the Shambala, bars and exotic restaurants and decentralized. Its peace is unfortunately disturbed by a road a little too threatening, but the shade of the tall trees and the atmosphere created by meadows and bamboo plants will be able to make you forget any noise.
As you walk further away from the castle, continuing towards the beaches that the lazy tourists do not reach, stop just for a coffee (kava) from Shambala. Or if it happened between noon and 15 and 30 (or dinner), sit under the large white umbrellas and try one of the dishes on the menu, which ranges between shrimps, fish, vegetables and contamination more markedly oriental.