The chocolate rice pudding recipe is a variation of the traditional recipe for Rice Pudding, a touch of chocolate is simply spectacular, especially if you love chocolate.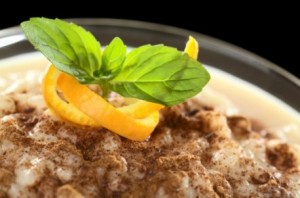 Ingredients
1 cup rice
2 cups water
8 cups milk
2 cups sugar
1 cinnamon stick
Salt
80 grams semi-sweet chocolate (cut into pieces).
Procedure
Place water in a saucepan, with a pinch of salt, let it boil and place the rice.
When the water of the rice has been consumed, i.e. begin to open little holes in the rice, cover and reduce to the minimum temperature, cook for 20 minutes, check the rice after 15 minutes to verify that not burning or sticking. If you think it is suitable or want to stir a little, you can do it.
Place milk in a large pot, sugar and chocolate stir. Adding a pinch of salt and cinnamon stick.
When the rice is ready add it to the milk mixture, sugar and chocolate, cook over medium heat, without leave to be pending and remove, there is a need to monitor the dessert because it can boil the milk and be disposed.
To cook until blast-off the preparation the bottom of the pot.
You can serve it hot or cold.
Note: when you can serve it do with a touch of whipped cream on top, or along the bowl where you are serving; you could also place it with an almond tuile, can also decorate with cocoa powder, strips of orange and mint leaves.