Would you like a romantic dish and super rich to the cheesy month? These crepes are your best choice!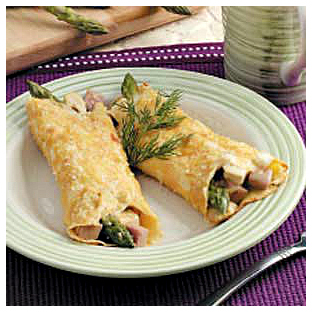 What do you need? (4 servings):
3 tablespoons unsalted butter
2½ cups roasted chicken, shredded
1½ cups Ricotta cheese
¾ cup Parmesan cheese, grated
¼ cup fresh herbs, chopped
Salt and pepper, to taste
8 crepes
1 shallot, minced
250 grams asparagus, cut into pieces
¾ cup chicken broth
1 teaspoon lemon zest.
Preparation:
Preheat oven to 218° C. Grease a large baking dish.
Combine chicken, ricotta cheese, ½ cup Parmesan cheese, 3 tablespoons herbs, ¾ teaspoon salt and ½ teaspoon pepper in a medium bowl. Stir well.
Fill crepes with ¼ cup chicken mixture; wound. Arrange the crepes with the opening down in the baking dish.
Bake until filling is hot, about 15 minutes.
Meanwhile melt 3 tablespoons butter in a skillet over medium-high heat. Add the shallot and heat until smooth, about 1 minute.
Add the asparagus and heated for 3 minutes, or until soft.
Add the chicken broth, lemon zest and remaining herbs; simmer until sauce has thickened slightly, about 2 minutes. Stir in rest of the Parmesan cheese and season with salt and pepper, to taste.
Divide the crepes in dishes. Bathes with asparagus sauce and serve with additional Parmesan cheese.