Low-calorie, gluten-free and delicious almond flavor, these pancakes are ideal for sharing with the entire family.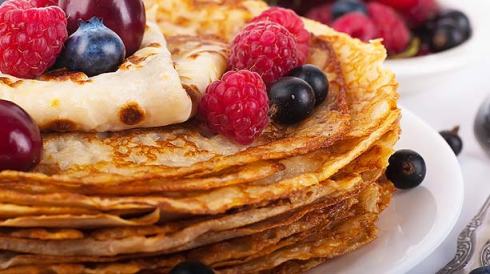 Ingredients
(14 servings)
3 cups almond flour
1 tablespoon ground flaxseed
½ teaspoon sea salt
½ teaspoon baking soda
3 large eggs
¾ cup almond milk
2 tablespoons olive oil.
Preparation
In a medium bowl combine the almond flour, flaxseed, salt and baking soda.
In a large bowl beat the eggs, then add the milk and oil and stir well.
Gradually incorporate the flour mixture to the egg mixture. Add more milk as needed, a tablespoon at a time, until you get the consistency of mass of pancakes.
Lightly grease a pan and heat over medium heat. Pour ¼ cup dough onto the pan. Heat for 3 minutes or until bubbles form and edges are cooked. Turn and heat for another 3 minutes or until lightly browned.
Serve with garnish of your choice and maple syrup.