Enjoy a sweet and delicious option with coffee in the morning or evening with the delicious taste of chocolate.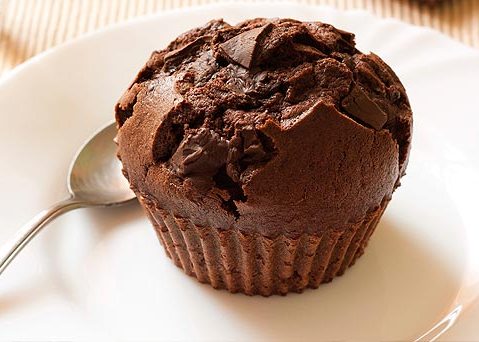 Ingredients
(12 muffins)
1¾ cup oatmeal
3 egg whites
¾ cup cocoa
½ cup applesauce
1 teaspoon vanilla extract
½ cup natural Greek yogurt
½ teaspoon cream of tartar
1½ teaspoons baking powder
1½ teaspoons baking soda
¼ teaspoon salt
1 cup hot water
1 cup sugar
½ cup semi-sweet chocolate chips.
Preparation
Preheat oven to 176º C. Covers a mold for 12 muffins with cup stock of aluminum foil. Separate.
Combine all ingredients in a blender or food processor, except the chocolate chips. Blend until oats remain crushed and smooth.
Arrange the mixture in a bowl and gently incorporates half of the chocolate chips.
Pour the mixture into the mold.
Bake for 10 minutes. Take the muffins and distributes the remaining chocolate chips on each. Return to oven and bake for 2-5 minutes.
Allow to cool slightly and serve.