One of the most picturesque restaurants in Spain, something more than a restaurant. The diner will find immersed in a museum packed with bullfighting motifs, including bulls, bullfighters and general ambience that really surprises the visitor.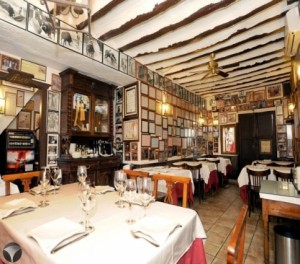 It is impossible to describe the myriad details that open the eyes in the many rooms and corners of the El Callejon restaurant. Lovers and bullfighting fans should not miss.
A very remarkable traditional cuisine Manchego, with an extensive menu of tasty dishes. Excellent raw material in numerous hot entrees, salads or to snack: Shrimp Cakes, Goose Liver on cheese and onion confit, Scrambled eggs with garlic, fried habitats with Iberian ham or chopitos, jumbled of prawns with chopitos … To mention only some of the appealing dishes that let the guest with the difficulty of choice.
Very good example of excellent fish, rice dishes and stews, apart from the area (Gazpacho Manchego, beans with partridge, oxtail stew …). We will point out one: rice stew with chicken. Among the meats to highlight the quality of the lamb (Ribs), partridge, etc…
Although not like the bulls, make an effort, its worth. The very accurate and fast service despite massive rooms filled with customers.