Though situated in a tourist zone (and you pay for it), the restaurant De Kroon is one of the best in Amsterdam. Very comfortable if you come out and have a drink in Rembrandtplein or its surroundings since the restaurant is located in the same plaza.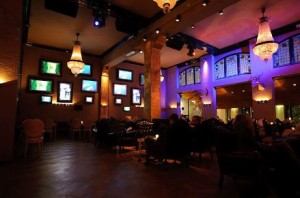 If you want a dinner with a view, book in advance as tables found in the terrace area (overlooking the square) are the first to fill. Anyway, the restaurant has a good interior space. The soft light of chandeliers and leather sofas give the restaurant a romantic and cozy.
The strengths of the restaurant are the views and food; weak points are the price and very touristy. The restaurant is located on the second floor.
If your budget does not allow you to spend that much at a dinner during your vacation you can choose to have a drink first thing in the evening at this restaurant. Sofas and low tables invite you to enjoy a pleasant evening in the heart of Amsterdam.
Hours: The restaurant De Kroon open daily until 01.00 am in the morning and Friday and Saturday until 03.00 wings.
Address: Rembrandtplein 17, Amsterdam 1017.