Exquisite gourmet dish perfect to celebrate mom at the time for its delicious combination of flavors and texture unmatched.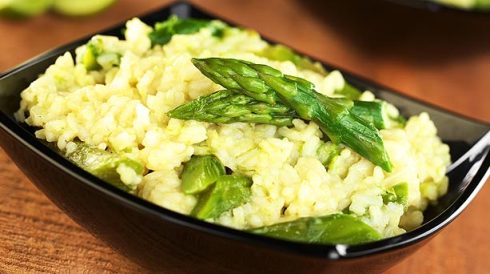 Ingredients (4 servings)
For the broth
2 cups chicken broth
1 carrot, peeled
1 small onion, peeled and chopped
1 fennel or 2 stalks celery, chopped
1 garlic clove
1 small potato, peeled and chopped

For the risotto
500 grams asparagus
A bunch parsley or spinach
Salt
2 tablespoons butter
1 tablespoon extra virgin olive oil
½ cup shallot or onion, finely chopped
½ cup dry white wine
1 cup rice arborio
4 cups broth
1/3 cup Parmesan Reggiano cheese, grated
½ lemon Juice.
Preparation
For the broth
Put all ingredients in a large pot and cover with 5 cups water.
Let boil and reduce heat to low, heat for another 30 minutes.
Strain into another pot and keep warm.
For the risotto
Boil salted water in a small saucepan.
Cut the edge of the and throw them away. Cut the first 7 cm. of the tip and cut stems in portions over 2.5 cm. Put the tips in boiling water and heat for 1 minute. Remove them with a holey spoon and immerse in ice water. Put the stems into boiling water and heat for 3 minutes.
Pulls the stalks and blend with the parsley or spinach. Add a pinch of salt and ½ cup water in the pan and make a smooth puree.
Heat 1 tablespoon butter and oil in a large pot over medium-high heat until butter melts. Add the shallots and 1 teaspoon of salt and heat until smooth, about 1 minute. Add rice and stir to coat with fat. Heat the rice until it begins to crack, about 1 minutes.
Pour the wine, stir and simmer until it has evaporated. Makes 2 cups of the broth and let it boil a little, heated until it is absorbed, stirring frequently for 7-10 minutes.
Add another cup of broth, another ½ teaspoon salt and continue to heat until it is almost absorbed. At this point need to check the consistency of rice, must be smooth and al dente around the center. Add more liquid if necessary, ¼ cup at a time until you feel it is ready.
Remove the pan from the heat and add the pureed asparagus, remaining butter and half the cheese. Stir in lemon juice and salt to taste. Carefully add the asparagus tips.