4 to 6 servings
Ingredients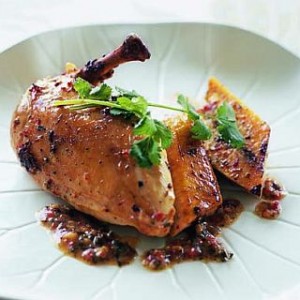 8 pieces of chicken with skin and bone
2 cloves garlic, chopped into slices
½ teaspoon ground black pepper
2 tablespoons oil
1 tablespoon cornstarch
½ cup chicken broth concentrate
½ cup dark rum
¼ cup orange juice
1 ½ teaspoons dried oregano
¾ teaspoon ground cumin
½ teaspoon spicy sauce
½ cup cooked black beans without broth
1/3 chopped bell pepper
Chopped romaine lettuce
¼ chopped onion
Orange slices
Lemon slices
Parsley
Salt to taste.
Preparation
Sprinkle chicken with salt and pepper, and gild it with oil in a frying pan until cooked, about 8 minutes. Remove the fat from the pan and place the chicken aside.
In a bowl, dissolve the cornstarch with chicken broth; add the rum, orange juice, cumin, oregano and hot pepper sauce. Pour the mixture into the pan and bring to a boil, stirring constantly to avoid lumps. Add chicken to skillet. Reduce the heat and cook for 20 minutes until chicken is tender. Remove chicken from the sauce pan and add the beans, peppers and sliced garlic. Cook for a minute.
Place chicken on a bed of lettuce and top with the sauce, sprinkle with onion, parsley and lemon and orange slices.