Toronto is a city where dining have high costs, but considering the standard of living of citizens in proportion. In any case, if we are tourists, we can allow a few insane. So here list of three places to eat in the town of Ontario.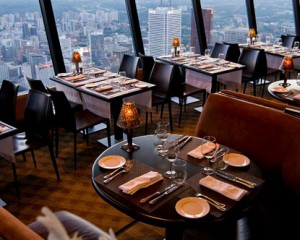 360 Restaurant: The restaurant is located on the CN Tower. You can find well-prepared and with good raw materials. The feature of the restaurant is to be "rotating". While you are sitting, in fact, turn on the tower by showing you the 360 degrees of Toronto, from Lake Ontario with the Island to the different districts of the city. Salmon, salads, but most do not miss the desserts: really good! Good and varied wine list. It is not exactly cheap, especially in view of its exclusivity.
County General: If you are in Toronto you have to go in this place. You'll find it along Queen Street and not expect some kind of large building: it is a sophisticated little place, small and cozy, inspired country houses, all in wood. There you will find 4/5 tables and a nice counter on which to eat.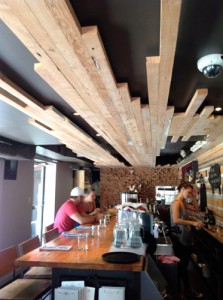 The menu offers several choices, but do not expect to make a complete meal: choose a tasty dish. Do not miss the burger with fries. Forget what you propose the fast-food, County General hamburger has a unique flavor, presented perfectly and the fries are nothing short of delicious. There are wines, but recommend you choose the craft beer in bottles or on tap. Prices in the rule, accessible to all.
Buca Restaurant: The nice restaurant on King Street West will surprise you. The restaurant's management decided to use the skills and knowledge of Italian food to produce meat with Canadian meat products: mission accomplished! If you order the boards you realize it is not in Italy, indeed, discover the flavors and tastes that will delight you. There are first, second, a nice selection of appetizers and platters, and even a parade of pizzas with special ingredients. The costs are expensive, a pizza can cost $29 Canadian dollars, but considering that there are pizzas in town and the quality of the pizza proposal, not surprised to see the restaurant already full at 18.30 on a Friday evening. Nice wine list, with plenty of Italian presence.