For a person who is interested in opening a hospitality business, knowing the characteristics of a restaurant kitchen is essential. The success of a gastronomic establishment comes in part from the distribution of machinery and appliances, the work efficiency of the staff and the organization within the kitchen.
Learning the characteristics of a restaurant kitchen helps you understand the elements that are needed to carry out a good management of the work area. At greater efficiency, the income and popularity of the hospitality industry will always be at their highest points.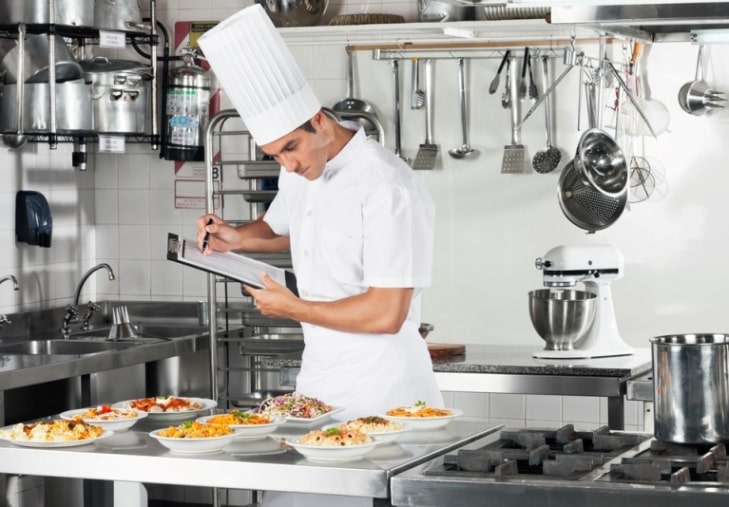 For this reason we have decided to help you in this task by giving you the main characteristics to have a successful kitchen; as well as tips and keys that will allow you to understand the actions to be taken to achieve the objectives you want to achieve.
Characteristics of a Restaurant Kitchen: Key Points and Elements
Any company, hospitality, commercial premises and similar, is governed by a system of hierarchy, organization and its own distribution where the philosophy and objectives of the business prevail.
In this sense, one of the first steps to establish these elements is to know the characteristics of a restaurant kitchen. Next, we will tell you the key points and elements that you should take into account:
illumination in the restaurant kitchen
Something you must understand is that when we refer to the kitchen, it is not only the food preparation area; but also the reservoirs and surrounding areas. Among the first characteristics of a restaurant kitchen that you should consider is lighting. This is absolutely essential for work efficiency.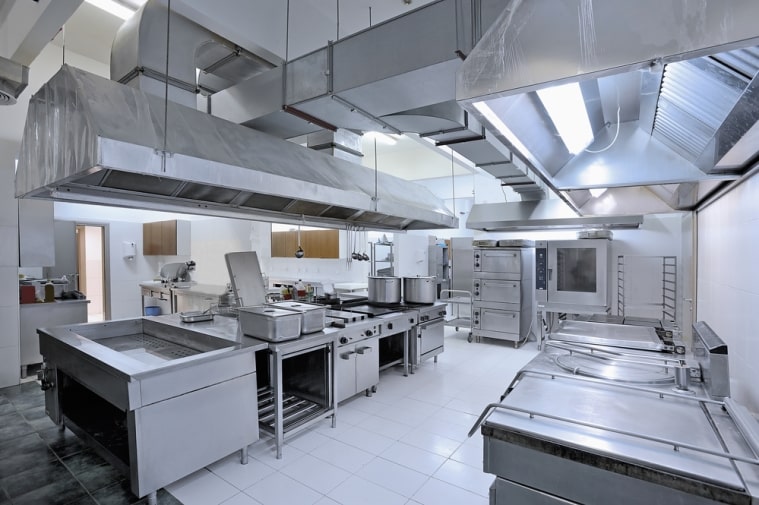 Both natural light and artificial light should allow the work team to visualize all the elements present in the kitchen, while reducing the chances of work-related accidents and delays in preparing dishes. Therefore, the electric lighting system must be strategically positioned, as well as the natural light entrances.
Freezing machinery, cold warehouses, electrical appliances, etc., must also have some type of lighting, preferably LED. However, a characteristic that you cannot forget is the efficient consumption of this element. For this reason, we recommend that you purchase equipment that has systems that allow you to reduce costs in terms of energy, without sacrificing quality.
The efficient organization of artificial light also helps to reduce costs. Taken together, all of this will save you a significant amount of money that you can invest in other aspects of the business.
Floors, walls and ceilings in restaurant kitchen
Many people do not understand the importance of flooring in a kitchen. A common mistake is to use any type of material for the walls and floors; however, this is a failure that can cause problems in both staff performance and food preparation time.
Both the walls and the floors must have certain special properties to make them suitable for a kitchen. In the first place, it must be a waterproof material, so that it facilitates cleaning and reduces problems related to mobility within the work area.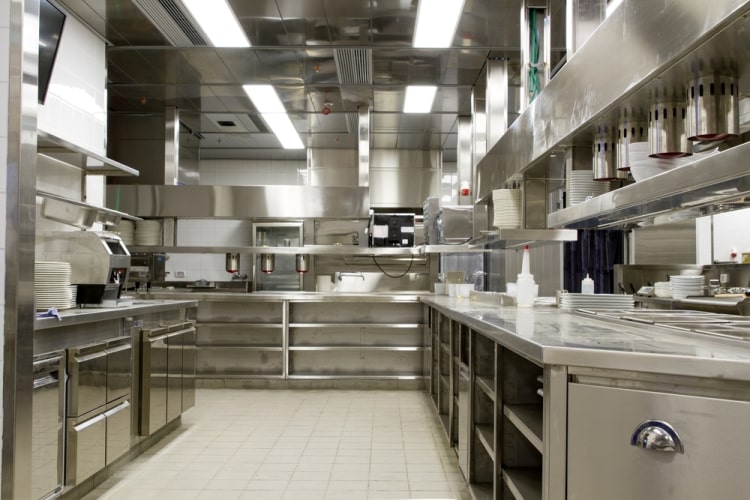 Secondly, many experts recommend that the selected material be smooth and of a light or white tone, the advantage is that it allows light to bounce and be efficiently distributed throughout the space; which improves lighting and even helps reduce energy costs.
In the case of ceilings, as it is a difficult surface to clean and sanitize, it is best to use a type of material that is impervious to vapors and humidity; which must also have the distinctive feature of facilitating the elimination of any type of waste, dust, etc.
Ventilation and air conditioning system in restaurant kitchen
Other characteristics of a restaurant kitchen that cannot be forgotten are the ventilation and air conditioning system. It is no secret to anyone that kitchens must have efficient ventilation.
Being a mostly closed place, gases and vapors can concentrate and affect both the visibility of workers and their health. Food is also affected, as a concentration of fumes can cause the temperature to increase, becoming capable of damaging or accelerating the decomposition process of meats, fruits, vegetables, etc.
In this sense, the ventilation system, which includes hoods over fryers, ovens, cooking appliances, among others, will prevent these fumes from affecting personnel and food. On the other hand, an air conditioning system will keep the kitchen and dining room environment cool.
Space management in restaurant kitchen
Among the characteristics of a restaurant kitchen there is an element that has a high level of importance, it is space management. This refers to the way of managing, organizing and distributing the elements that make up a kitchen.
Whether it is a large or small kitchen, a good organization of space will allow staff to move freely without tripping over others, or causing spectacular accidents. Machines must be of a suitable size and design. With a good distribution, you can leave paths for movement, and even leave space for a future expansion of the kitchen dimensions.
Water system and machinery in restaurant kitchen
The water system is also one of the characteristics of a restaurant kitchen. Whether to clean or sanitize, water is indisputably an element that should not be missing. On the other hand, having a potable water supply suitable for consumption is almost mandatory.
Now that you know the main characteristics of a restaurant kitchen, what do you think is the most essential in a hospitality industry?