This simple and light recipe is perfect to become the main course in any vegetarian.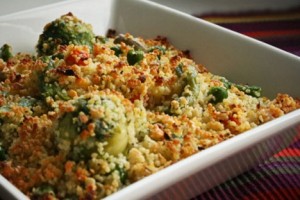 Couscous with Parmesan and Peas recipe is a simple, cheap, easy and quick to prepare because the couscous has the great advantage that it is prepared in the blink of an eye.
This is added the fact has to be a delicious and nutritious dish with which those on a diet or somewhat obsessed with keeping your weight under control will have no problem in obtaining your goals with this tasty recipe suitable for vegetarians and that only contains about 200 calories.
Preparation and cooking time: 20 minutes
Ingredients for 6 people
• 1 cup chicken or vegetable broth.
• ¼ cup water
• 2 teaspoons olive oil
• 1 cup couscous
• ½ cup frozen peas
• 2 teaspoons fresh dill
• 1 teaspoon lemon rind
• A pinch salt
• A pinch black pepper.
Preparation
Pour the water, olive oil and broth in a deep pan and bring to a boil.
Pour the couscous and remove from heat, cover the pan and let it rest for five minutes.
Meanwhile, cook the peas in some water with salt.
Add the peas to the couscous and put some salt, black pepper and lemon rind.
Mix together gently and separate a little with a fork.
Serve hot with plenty of Parmesan cheese over the couscous.