This delicious recipe blends traditional European cuisine with the exotic India. If you like turkey and curry, prepared this dish and surprise your guests!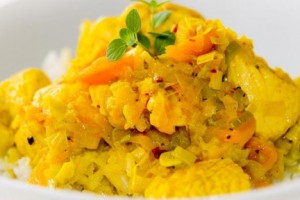 The turkey curry and potato recipe is a very complete and full of flavors that bring us closer to the exoticism of India and that, in addition, it is cheaper for our pockets.
This delicious dish can have different degrees of spiciness to the taste of each one, so throw yourself into the kitchen and experiment with herbs and spices.
Ingredients for four people:
3-4 teaspoons of oil, preferably olive oil
500 grams ground turkey
1 Minced onion into small pieces
2 garlic cloves into small pieces
1-2 red chili pepper, seeded and diced (optional)
2 centimeters of finely grated ginger
1/2 cup water
Pinch of salt
1 teaspoon curry powder
1 teaspoon cumin
1 teaspoon turmeric or saffron
1 teaspoon coriander powder
2-4 diced tomatoes
2 large diced potatoes
1 cup fresh peas
1/2 cup cilantro or parsley cut into small pieces.
Preparation:
Heat oil to medium-high temperature in a saucepan with a lid. When oil is warm, add the meat and stir occasionally.
Cook meat until brown.
Add grated ginger and garlic and cook while you mix well for one or two minutes.
Mix the herbs, water and potatoes and add them to the saucepan.
Lower the temperature and cook everything for 15-20 minutes with the lid covering until the potatoes are done.
Add chopped tomatoes and peas.
Mix well, letting cook for another two or three minutes.
Add a little salt if necessary.
Before serving, add some minced cilantro.
This dish can be served alone or accompanied by rice or Indian bread.