Exquisite pasta stuffed with cheese accompanied by the delicious flavor of mushrooms and the cool touch of spices.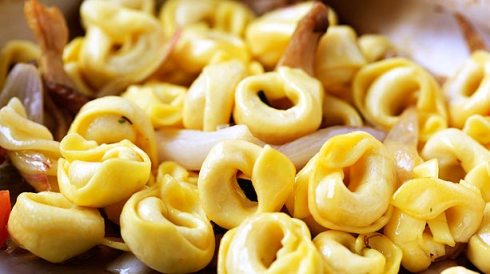 Ingredients (4 servings)
500 grams tortellini with cheese
500 grams portobello mushrooms, sliced
1 small onion, chopped
1/3 cup butter, cubed
2 garlic cloves, minced
1 cup chicken broth
1 cup whipping cream
½ teaspoon salt
½ teaspoon pepper
1/3 cup Parmesan cheese, grated
2 tablespoons chopped fresh basil or 2 teaspoons dried basil.
Preparation
Heat the pasta according to package instructions.
In a large skillet saute the mushrooms and onion in butter until tender. Add garlic and heat for 1 minutes. Add the broth and bring to a boil. Lower the temperature and let simmer for 12-15 minutes or until the liquid is reduced by half.
Stir in cream, salt and pepper. Heat 4 to 5 minutes or until it has thickened.
Drain the tortellini, and add to the pan. Stir in cheese and basil.
Serve immediately.