Today, eating under the sea while you look at a marine world to your around it is not easy, but possible. Here are a total of three restaurants located around the whole world in which you can enjoy a very aquatic menu.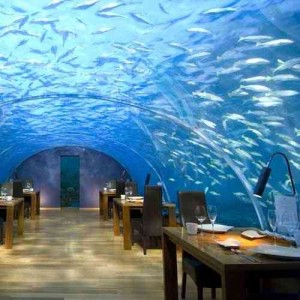 Although many of you imagine that the idea will be a little surprising, it is true that in various places in the world we can find unimaginable things such as, for example, restaurants are located underwater, actually, under the sea.
One is Ithaa, and although we caught a little further, particularly in the Maldives islands, was the first underwater restaurant of the world. The restaurant is part of the Hilton Maldives Resort & Spa and located about five meters below sea level.
To access it we go through a gateway that will lead us to a living room with capacity for about 14 people, salon from which we can observe the depths of the Indian Ocean thanks to its panoramic view of 270 degrees.
Furthermore, if talk about the price, a good menu at this delicious restaurant we could out between 120 and 250 dollars, although it is also true that, in its charter, we can encounter with dishes and drinks that are rubbing against the thousands of dollars.
The second underwater restaurant that we will know plumbs the depths of Red Sea, specifically in the city of Eilat in Israel. Its name is Red Sea Star, and is also located about 5 meters below sea level, in a environment of many corals and sea creatures.
It is a colorful restaurant in which all its decoration is attention to detail, by which we can find marine sponges chairs, for example. In addition, it also has 62 windows that allow that we may witness a marine show almost unique in the world, since it is not very common to have the opportunity to eat between fish.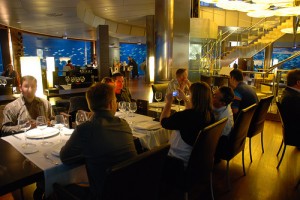 Finally, we are going to bring to the "submarine" restaurant that catches us closer, since it is located in the Oceanographic Park in Valencia. However, this time we do not dive under the sea, but rather we will enjoy just a huge aquarium covering the entire perimeter of the room, thus we can enjoy our entire meal watching around a colorful fish.
Even so, one of its great benefits, leaving aside the aforementioned proximity, it is much more economically affordable because the menu here can ever be around 30-40 euros per person.