Some people make it a matter of quality, those research traditions, those of economy, but the fact is that in lean times like these, the popularity of homegrown eateries is rapidly growing at the expense of the restaurants.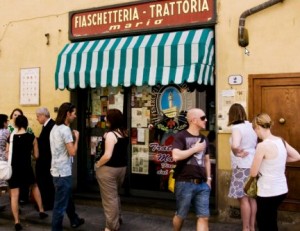 L 'Osteria di Giovanni is located in Via del Moro 22, more or less half way through the journey from Santa Maria Novella and the Carraia bridge, is the authenticity of products and customer service its strengths. Tasty Tuscan salami appetizers, soups, meats cooked according to Florentine tradition, for a value for money that is unlikely to leave unsatisfied.
Osteria da Que Ganzi being Ghibellina 70, right in front of the Michelangelo museum, is housed in an old building of the fourteenth century, and is noted for its rustic character but familiar. Tuscan cuisine, both fish and meat, with a good balance between quality and price, among the first pappardelle with wild boar and pici with radish and olives, for the latter, asks with confidence to the managers, cut that suits for you.
The Trattoria Mario is in Via Rosina 2, near the San Lorenzo market, some say the best restaurant in Florence, although "the dress" resigned (but is no longer a secret, given the input file). Designed environment, and traditional kitchen of quality, from the ribollita to cut, ending, as is traditional with almond biscuits and sweet wine.