The Germans like to eat, and one of the reasons why they love coming to Italy, that most of Greece and Spain, can offer a variety of dishes and drinks, to turn every holiday into a new treasure hunt. So it is not so strange that in Monaco of Bavaria, in addition to the cellars transformed into risto-pub, and Italian restaurants and pizzerias, is so easy to find an ethnic restaurant.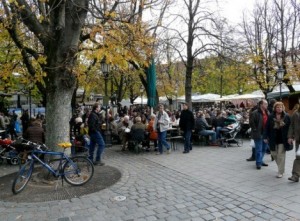 O Castelo, a small but quaint location near Ostbahnhofs, offers Portuguese cuisine, as well as pasta and pizza, to avoid, to exempt from having to make comparisons. Better to focus on cod and fish dishes and grilled meats.
Address: Trausnitzstrasse 17, metro station Ostbahnhofs.
Jammi-Asia leads us in Asia, in Vietnam, where it is possible to taste the authentic pho, or spring rolls prepared by the owners or with fresh ingredients (not with the microwave). Also appreciated for the prices, it is located in Schleißheimer Straße 69, metro station Josephplatz.
Still in Asia, but in the one nearest of Israel brings us the Eclipse Grill Bar, an authentic Israeli restaurant in the Schwabing, district of artists and academics in Monaco. Hummus, falafel and grilled meats, is the specialties of the house.
Address: Hessstrasse 51, metro station Theresienstrasse.