Nothing better, especially if you're in good company, ending a day in Paris with dinner at Restaurant Les Ombres, on the roof of the Musee du Quai Branly.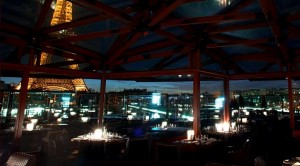 The location is unbeatable, on the left bank of the Seine and just few steps from the Eiffel Tower, and the panoramic glass roof gives us a breathtaking panorama of the city, as you can, even if partially, see from the photo above.
Photos that could "intimidate" the most careful beside economic things: but do not worry because despite the unique setting and refined atmosphere, the restaurant has a capacity of mere mortals, which you can see for yourself by consulting the menu. Personally, this restaurant is now on my list of things "to do" … or rather, to taste.