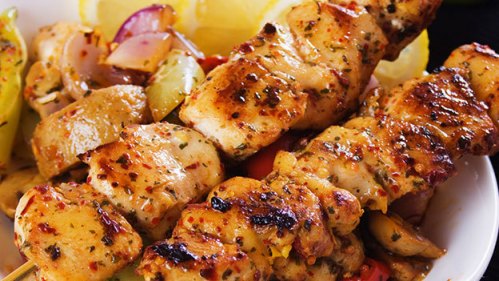 What do you need?
Makes 4 servings:
3 tablespoons soy sauce
2 tablespoons honey
1 tablespoon sesame oil
1 lemon juice
2 garlic cloves, minced
1 teaspoon sriracha sauce
1/8 teaspoon peperoncino
2 tablespoons cilantro, chopped
750 grams of chicken breast, boneless, skinless, cut into pieces.
Preparation:
To prepare the marinade combines soy, honey, sesame oil, lemon, garlic, sriracha, the peperoncino and cilantro. Mix well.
Pour the marinade into a resealable plastic bag and add the chicken. Seal bag and shake well.
Put the bag in the refrigerator and marinate of 3-4 hours.
Preheat grill until very hot. Divide the chicken evenly between 4 skewers and insert it into wooden sticks.
Place the skewers on the grill and heat on low. Heat until well cooked.
Serve with peanut sauce.