Fresh and delicious tangerine salad with a combination of lettuce and a delicious dressing. You will love it!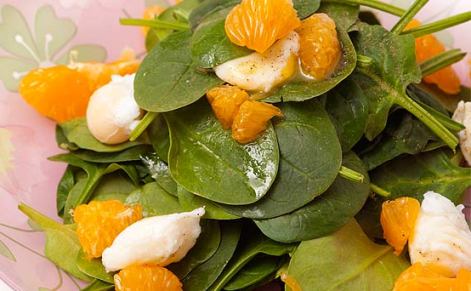 Ingredients
½ cup sliced almonds
2 tablespoons sugar
1 cup celery, diced
2 tangerines into segments
½ romaine lettuce, chopped
2 green onions, diced.
For the dressing
½ teaspoon salt
¼ cup olive oil
2 tablespoons sugar
Pepper Pinch
2 tablespoons vinegar.
Preparation
Heats almonds and sugar in a small frying pan over medium heat, stirring constantly until almonds are covered and the sugar has dissolved. Let cool and store in vacuum container until you want to mix with the salad.
Blend dressing ingredients.
Chop the lettuce, celery and onion.
Combine all in a bowl. Add almonds and tangerines just before serving. Drizzle with dressing and stir well.
Serves.