One of the most underrated experiences in Berlin, is the unique Weinerei's. The idea behind the "wine bar" is that each guest will pay what they think is appropriate when leaving the place.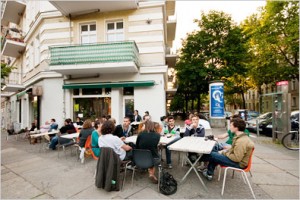 Prior to the payment is an evening of ad libitum wine, which usually can choose between up to 20 different bottles. In advance, or if space permits, serves a rustic meal, prepared with seasonal ingredients and paid on the same principle as the wine.
The atmospheres of the places are wild and relaxed, and since it is polite self-service, will be the company you are in, one of the decisive parameters in order to ensure a good and enjoyable evening. One should not expect a gourmet experience in one of Berlin's weinereis, but a cheap and pleasant evening where you both socially and economically, even help to create a good experience.
Location:
Most weinereis fall of Prenzlauer Berg in the area around Zion Church.