Imagine yourself on vacation in Paris and wanted a break after the visits and cultural trips on the subway. Maybe doing a tour boat oars, walking in a forest, having lunch on the terrace of a chalet overlooking the lake. All this is possible if you can find the Chalet des Iles, a restaurant located in an extraordinary context.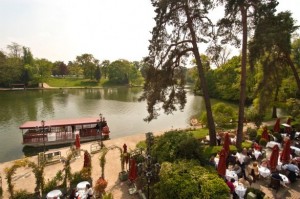 The wooden frame has its own particular history: Napoleon III made him dismount in Switzerland and bring on an island in the Bois de Boulogne, in homage to his wife. Here were the literary cafes frequented by Zola and Proust.
If you want to reach the Chalet cycling, just in front of the entrance there is the station of Velib, the public bike rental service.