It is very easy to prepare and is very nutritious and delicious.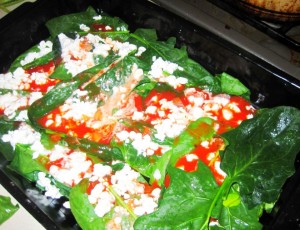 Ingredients:
3 bunches of spinach raw and chopped
4 cups low-fat cottage cheese
1 liter of tomato puree
250 grams of low fat cheese gratin
1 tablespoon olive oil
salt and pepper to taste
1 teaspoon oregano
1 finely chopped onion
1 finely chopped clove garlic
1/2 kilo of turkey breast in thin slices.
Preparation
In a saucepan cook the garlic and onion in olive oil, add the tomato puree, salt and pepper. Let boil for about 15 minutes until reduced and very thick. Add oregano and turn off the heat.
In a lasagna pan grease with a little olive oil and a layer of spinach, a layer of sauce and a layer of drained cottage cheese and a layer of turkey breast. Continue until finishing with a layer of spinach and place the low-fat cheese gratin. Bake at 180 degrees until cheese is melted and lightly browned. It is very rich and healthy.