Rich and healthy smoked salmon pizza with cream cheese, guacamole and capers which you'll love.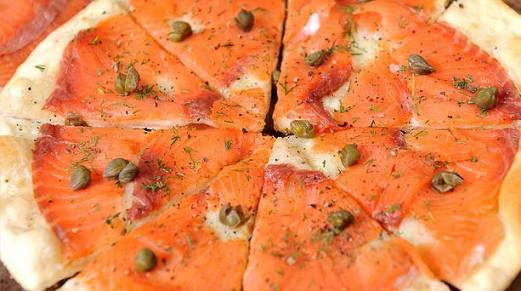 Ingredients (12-14 servings)
2 rectangular pita breads 28 x 22 cm each
½ cup guacamole
½ cup cream cheese with garlic and spices
300 grams smoked salmon, thinly sliced
10 thin slices of red onion
3 tablespoons capers
½ cup fresh dill, chopped
2-3 lemon slices.
Preparation
Heat the pitas in the oven at 200°C until golden and crisp. Let cool on a plate for 2 minutes or so.
Combine cream cheese with guacamole. Spread mixture over pitas and top with smoked salmon.
Garnish with slices of onion, capers and dill.
Slices and serve with a lemon squeeze.