Delicious shrimp tacos accompanied by a creamy chipotle sauce for a celebration.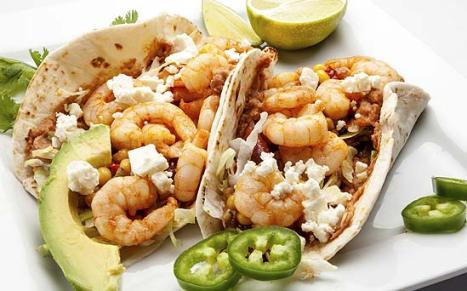 What do you need? (For 2-3 servings)
For the chipotle cream
1/3 cup sour cream
1 tablespoon lemon juice
½ teaspoon chipotle powder
Salt, to taste.
For the shrimp
250 grams shrimp, peeled
1 teaspoon chipotle powder
1 teaspoon chili powder
1 teaspoon salt
2 teaspoons vegetable oil
6 corn tortillas
Lettuce, shredded
Avocado, sliced
Lemon.
Preparation
For the chipotle cream
In a small bowl combine cream, lemon juice and chipotle powder. Season with salt to taste. Refrigerate until ready to use.
For the shrimp
Combine chipotle powder, chili powder and salt. Cover the shrimp with the mixture and let marinate for 30 minutes.
Add vegetable oil to a large skillet and heat to medium. Heat the shrimp until they are opaque, about 3 minutes.
Heat tortillas on a griddle. Put them in a bowl and add the shrimp, lettuce and avocado.
Serve with lemon and chipotle cream.