For those days when you want to eat healthy without sacrificing great taste we leave this delicious and healthy recipe that you'll love and make you feel good about yourself.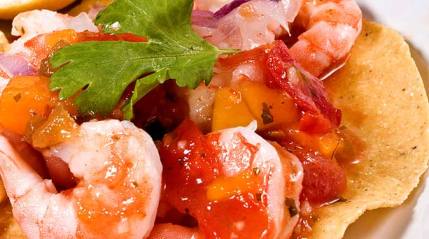 Ingredients (6 servings)
6 toast
Oil spray
2 avocados
½ cup chopped cilantro
1 lemon juice
2 tablespoons extra virgin olive oil
500 grams cheesy shrimp, peeled
1 tablespoon ground cumin
2 tablespoons chili powder
1 teaspoon red or green pepper, chopped
1 teaspoon garlic salt
1 red pepper, thinly sliced.
Preparation
In a small bowl combine the avocado, cilantro, lemon juice and a pinch of salt sea. Crush with a fork until the guacamole.
Mix the shrimp with cumin, chili powder, chopped pepper and garlic salt.
Heat oil in a medium skillet over medium heat. Seals the shrimp on one side for 2 minutes; turns and resealed for 30 seconds. Remove from pan.
Add to the pan red pepper. Saute for 2 minutes, seasoning with salt to taste.
Put a spoonful of guacamole on each toast, followed by some shrimps and red pepper. Garnish with cilantro and serve with a little lemon juice.