For holiday season delight your guests with this delicious sandwich.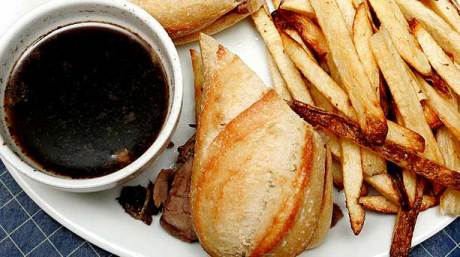 Ingredients (8 servings)
2 cans gravy
1 can gravy type meat sauce
2 cups water
32 slices roast beef, very thin
16 slicing provolone cheese, very thin
Salt and pepper to taste
2 large baguettes.
Preparation
Preheat oven to 175° C.
In a large pot serves gravy with meat sauce and water, season with salt and pepper to taste. Bring to boil.
Once the mixture is boiling, add the roast beef and heat for 3 minutes on medium heat.
While heated roast beef, part baguettes into 4 slices and subsequently part each slice in half.
Arrange bread on a baking sheet, remove the roast beef and accommodates 4 slices in each pan, cover with 2 slices of provolone cheese. Cover with another pan and bake for 5 minutes or until cheese melts.
Serve accompanied by gravy mixture on a small plate, so you can dip your sandwich before each bite.