The new Savoy arrived. The legendary palace of the Strand, which reopened its doors officially, plays the wise gastronomy.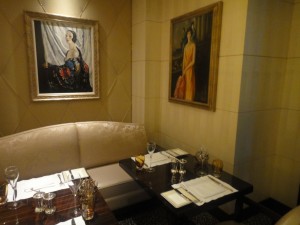 The place is called The River Restaurant and evokes deco side, the Relais Plaza Paris, though mezza vocation. The young Ryan Murphy, an American of New York, who worked in the three stars of the Big Apple, took in hands ranging House furnaces.
His style is London old and new style, lightly, not without subtlety. We taste and, in a chic brasserie setting and wooded, very Art Deco, with its Belle Epoque paintings, leather armchairs, its walls painted in beige and wood, the lovely trio of salmon (marinated, smoked, fried), the end pressed foie gras and confit with plum chutney and sauternes jelly, cod with celeriac puree or lamb in mille-feuille potatoes.
The lunch menu at £29 (£24 with an entrance and a dish, or a dish plus a dessert), the matter of the moment to seize.
Address:
The Savoy, Strand
London WC2R OEU
UK
Tel: +44 (0) 20 74202350