The Confeitaria Colombo in Rio de Janeiro, not as famous as the Harry's New York Bar in Paris and other famous bars because of literary acquaintances, but is certainly one of the most well-known of Rio, where it operates since 1894. We are in the center of the city and whether you're just out of the Museum of Modern Art in Rio, whether you are doing a walk through the streets of downtown, it's worth going through the Pastry Colombo.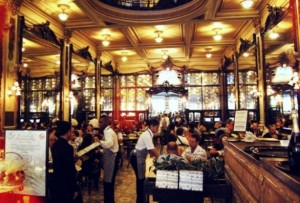 Belle Epoque, Art Nouveau, it is getting thrown back in time to the early twentieth century, with huge Belgian mirrors, frames and rosewood showcases, Italian marble top, light fixtures, floors and furnishings, a show for eyes, a spectacle for the senses, because in the end you sit down and order something to eat and drink.
If you pass the 18, at tea, you are served a menu of over 60 items, including domestic and imported tea, coffee, chocolate and orange juice; home made potatoes croquets (shrimp or beef), small cakes and sweets.
Since it's managed to stay ahead of the curve for so long, you can be sure that they are always quality products, the best traditional pastry carioca, but can be equally certain, that the premises will not be cheaper to eat. Very close to the Uruguayan station of metro in Rio de Janiero.