When it comes to eating many try to escape the niche a little 'out of hand or little known. But if you are looking for a gastronomic experience sui generis, at least once it is worth stepping into a restaurant by the Guinness Book of records.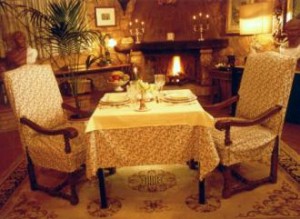 In Italy we have restaurant by Guinness, is called Solo per due or just for two and is in Vacone near Rome, also here you will find a table. This place has become famous throughout the world, perhaps also because having regard to its structure, you are sure that there will be unnerving expectations and the waiters will not be distracted by other customers. And 'the perfect address for Valentine's Day, do not you think? If by chance you do not find the place, try to Peperino of San Miniato (Pisa), even here there is only one table for two and a waiter to call a bell, as the noble than once.
Now to the mega-restaurants, an experience that may be worth during one of your exotic trips; the Damascus Gate is the one that has the record is located on the outskirts of Damascus in Syria, and offers 6,000 covered an area of 54,000 square meters; here the dishes are prepared with the products and the animals reared on the farm's internal structure, and there is a section dedicated to the customers of Islamic faith who do not consume alcohol and pork.
Another famous place to eat in "great company" is found instead in Thailand, the Royal Dragon Restaurant in Bangkok offers the richest selection of live seafood, a paradise for lovers of fresh fish and various styles of Asian cuisine, which here are served by waiters with flying roller foot.