The restaurant Titon 1954, housed in an eighteenth century palace, is an elegant, nice and cozy, complete with a beautiful garden and terrace on the harbor. The environment is a pleasant rustic-elegant and suitable for couples, families as well as for dinners or lunches.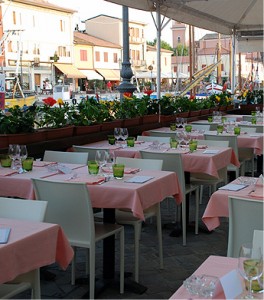 It was originally a tavern frequented by fishermen, is now a restaurant serving traditional dishes, from 2008 into the hands of a chef with a solid reputation, Alberto Malpezzi.
The cuisine is of sea, traditional, serving seafood and regional specialties and fresh bread and homemade pastas. The restaurant Titon 1954, located in Cesenatico, Forli Cesena, also has a good cellar wine with a selection of curated labels. Generally offers the availability of 160 seats.
Address: Marino Moretti on 10, Cesenatico (FC)
Phone: 0547 80622